The Make A Child Smile project in Tolosa, Leyte was featured in one Rappler article. The article was written by MACS volunteer Mark Anthony S. Goroy who narrated his experience on conducting MACS and his time playing football on the beach with some Tolosa children who happen to be beneficiaries of the MACS project also (MACS Inaanaks).
Here is the link: http://www.rappler.com/sports/features/profiles-blogs/47153-playing-football-in-leyte-make-a-child-smile-project?utm_source=feedburner&utm_medium=feed&utm_campaign=Feed%3A+rappler+(Rappler)
You can read the full article below (without the full set of pictures):
On playing football in Leyte for Make A Child Smile project
BY MARK ANTHONY S. GOROY
POSTED ON 01/03/2014 4:27 PM  | UPDATED 01/07/2014 12:01 PM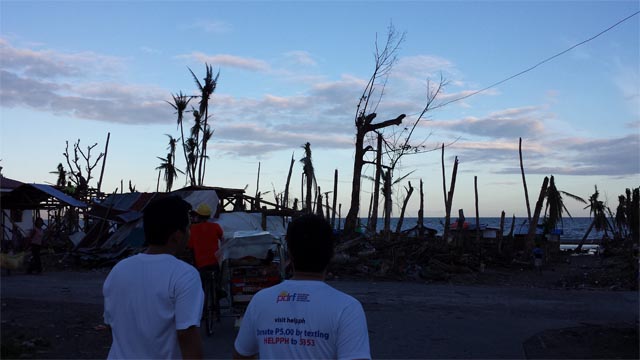 TOLOSA, LEYTE. Abet and Goroy approaching the beach at Tolosa, Leyte, where they will make some kids smile by giving them presents from Manila-based sponsors. Photo by Mark Anthony S. Goroy
Typhoon Yolanda may have destroyed countless homes in Leyte province, but it can't destroy the indomitable spirits of the survivors.
Our goal was to make some of the children of Tolosa, Leyte smile. In the end they're the ones who showed us how to be happy in the midst of great difficulties.
On December 27, 2013, I and 5 other friends went to Tolosa to bring gifts prepared by Manila-based sponsors for the Make A Child Smile (MACS) project. It was a project we started in Charis Foundation as our little contribution in helping rebuild the lives and restore the spirits of Typhoon Yolanda victims.
We chose Tolosa as our project site because it was the hometown of one of our friends.
Seeing the Tolosa beach from my friend's photos, I brought a football knowing that I could use it on the beach while my friends were swimming during our free time as we prepared to conduct MACS the following day.
True enough, upon arriving on the beach, 4 children approached and asked us if they could play with us. They never played football before, so I instructed them how to pass and control the ball. After a few minutes, the children—Jessie, Angelo, Reyver, and Rhalp—were already playing kickabout and soon after, they arranged makeshift goal posts made of fallen coconuts so that they could play 2-on-2 football on the beach.
As they played, the children looked happy and without worries. I nearly forgot that these children were survivors of one of the most destructive typhoons ever recorded—Typhoon Haiyan, or Typhoon Yolanda as the locals call it.
As they say, life must go on.
Here are some of our photos of playing football on the beach and conducting MACS.
MACS is a project of Charis Foundation, a non-stock, non-profit organization which aims to promote excellence in the fulfillment of one's duty, virtues in forging one's character and personal responsibility in the formation of one's conscience as long-term and sustainable solutions for our country's development and its people. The MACS project was in partnership with Tindog Tolosa, a social program aimed at rebuilding the town. The program is spearheaded by Makati-based professional Noe Palana, whose parents hailed from Tolosa.
Here are some of the photos showing our journey to Tolosa, Leyte and our project Make A Child Smile, which was the reason of our visit to the town.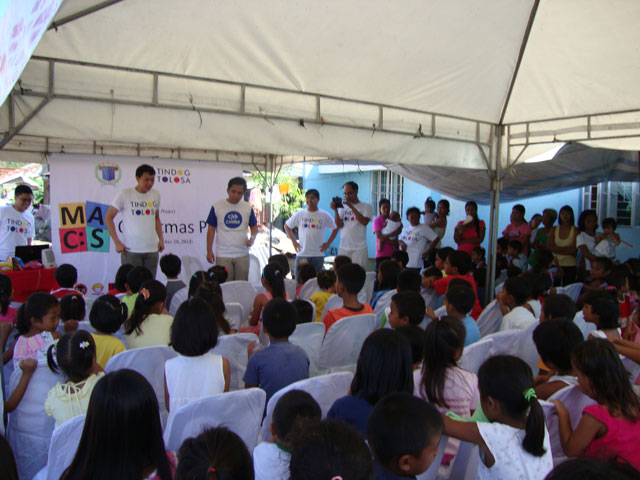 MAKE A CHILD SMILE. The team prepares for the MACS event in Tolosa, Leyte where some 200 children received gifts from their Manila-based Ninongs and Ninangs.
– Rappler.com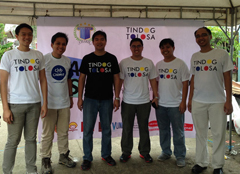 Mark Anthony S. Goroy (fourth from left) is the Project Director of the Make A Child Smile project of CHARIS Foundation. He works for a pay-TV company based in Taguig. He was a member of his high school football varsity team. He is seen with Charis volunteers for MACS Tolosa.